Feb, 2019
Carla's story: an unimaginable diagnosis leads to brave fight
Carla Mills was just 38 when her doctor delivered the devastating news – 'you have cancer'.
"I couldn't believe what I was hearing," Carla said. "I was too young to have cancer."
Diagnosed with triple negative breast cancer – one of the most aggressive and fastest growing cancers – Carla's life quickly became a blur of gruelling treatment and surgeries.
"My whole world was torn from under me and my life changed in an instant," Carla recalled.
In a desperate effort to stop the cancer from spreading, the brave Gold Coaster underwent a double mastectomy and six intensive rounds of chemotherapy. Carla then endured BRCA genetic testing, a preventative full hysterectomy and major reconstructive surgery.
Carla's breast cancer diagnosis meant she had to quit her dream job and stop doing the hobbies she loved. It meant she lost her beautiful blonde hair and struggled with the upsetting reality of body issues after a mastectomy and hysterectomy.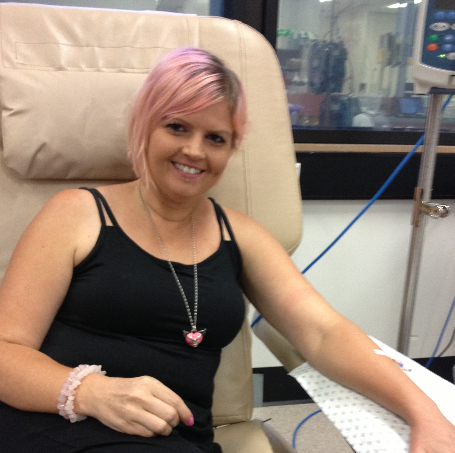 It's been more than six years since her diagnosis and yet the physical and emotional hardship is not over yet. Imagine how difficult this would be for Carla and her support circle.
"Yes, I've got the 'all clear' and physically there is no evidence of disease, however it doesn't get any easier," Carla said.
"I can't count the number of counsellors, psychologists, psychiatrists and mental health specialists that I've been to see.
"I'm still in the process of reconstructive surgery and I suffer severe PTSD [post-traumatic stress disorder], which affects so many aspects of my life."
As a community organisation, Gold Coast Hospital Foundation raises funds to reduce medical hardship for local patients like Carla. One of the ways the Foundation does this is by helping cancer patients get to and from hospital for treatment, tests and appointments.
The Cancer Patient Transport Service provides crucial support for more than 2,000 local cancer patients every year who are too sick to drive, can't rely on family or friends to assist them, or simply struggle to afford taxis and public transport.
Your support is needed now more than ever, with the cost to keep the Foundation's fleet of three dedicated vehicles on the road five days a week exceeding $280,000 per year.
"If you can spare the money, please donate, this service could be the only way someone can get to their treatment. Imagine if it was your mother, father, daughter or son needing assistance from door to door," Carla said.