Nov, 2021
Hospital Foundation unveils largest ever refurbishment project to benefit children in hospital
Gold Coast Hospital Foundation is spreading joy and much-needed distraction for sick children in hospital with the unveiling of its largest ever refurbishment project of the waiting room at Gold Coast University Hospital's Children's Outpatients Department.
The Australiana-meets-beach themed makeover boasts interactive and educational play zones, toys and resources, new wall art with bold coloured surf boards, native animals, birds, and furniture covered in bright orange and blue stripes.
Gold Coast Hospital Foundation Chief Executive Officer Ben Cox said the Children's Outpatients Department waiting room has been completely transformed into a welcoming, engaging and family-friendly environment to support the care and treatment of an estimated 600 babies, children, and teenagers per week at Gold Coast University Hospital.
"Gold Coast Hospital Foundation's refurbishment of the Children's Outpatients Department waiting room is vitally important for sick children going through tough treatments and uncertain times," Mr. Cox said.
"Young patients are often frightened by the unfamiliar, clinical hospital environment, so the refurbishment will provide essential entertainment and distraction to help children stay calm and ease anxiety while waiting to see medical staff in the Children's Outpatients Department.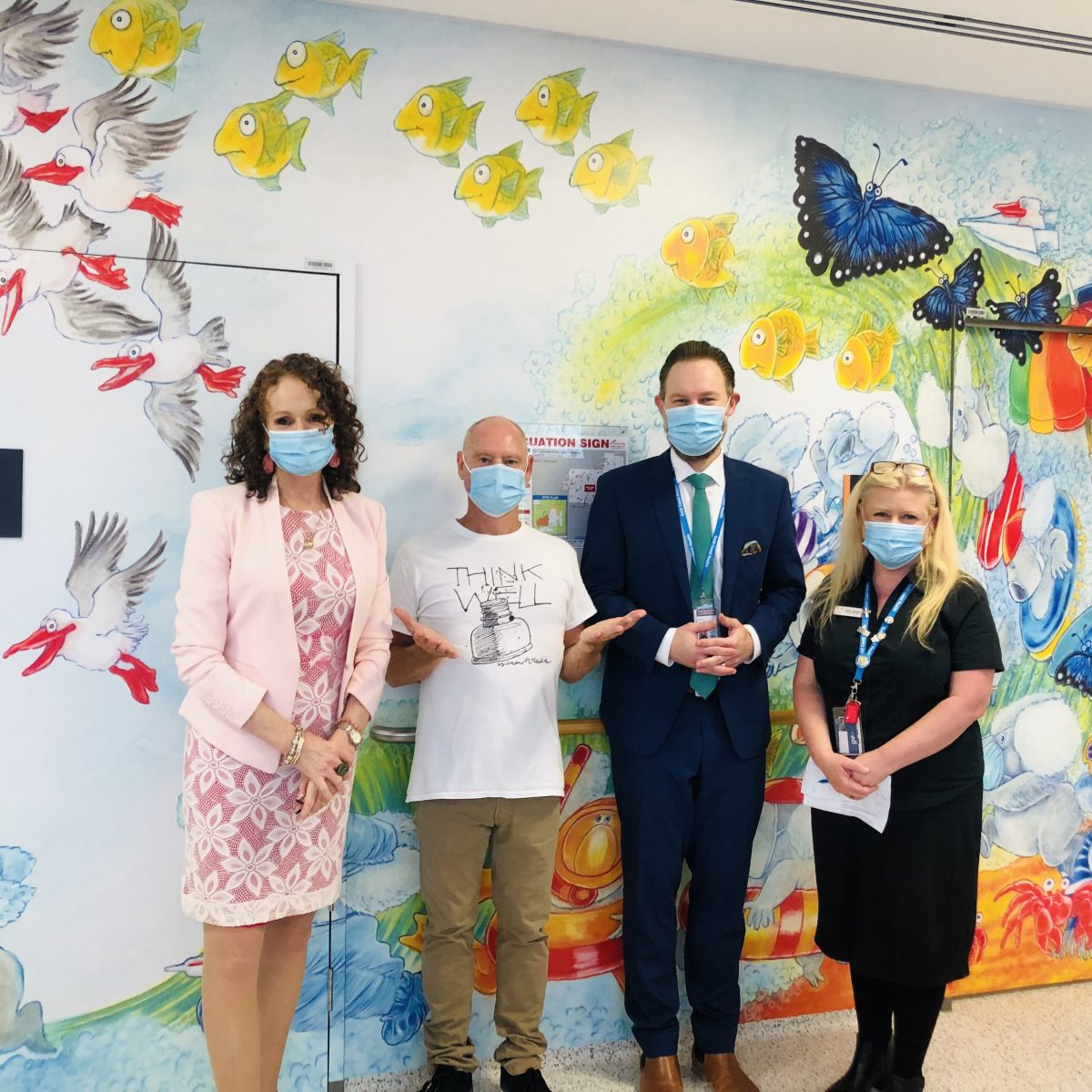 Local mum Hailee Stephens says the new-look waiting room offers a fun and relaxed space for children, families and the medical professionals who care for them.
"We've been coming now for 18 months for my son's psychology appointments and learning difficulties. His hospital visits will be ongoing for a while now."
"The murals and pictures make kids feel more comfortable. It's more relaxing for the kids and, if kids are relaxed, parents are going to feel more relaxed too."
"Before, it was a more boring and anxious wait because there wasn't a lot for him to do and he didn't feel comfortable."
"Now, he was fine today. He enjoyed the games and looking at the paintings. It brought a calmness to him. He didn't have any tantrums, which makes it a lot easier to come here and not dread the appointments."
Gold Coast Hospital Foundation has funded interactive play equipment in 'Sophie's Corner' where young children can 'catch fish' or 'pop bubbles'. There's a brand-new reading nook and educational tech zone to entertain older children with books, a Nintendo Switch and TV.
Original artwork designed by local artist Simon McLean adorns the waiting room walls, transporting children to a fun beachside scene with seagulls and pelicans.
The waiting room also features new locally made cabinetry and furniture, soft flooring, and reupholstered modular seating.
This is the largest ever refurbishment project undertaken by Gold Coast Hospital Foundation and aims to engage young patients in an interactive yet calming environment while children and parents wait to attend medical, nursing and allied health appointments.
Many generous donors and supporters of Gold Coast Hospital Foundation played an integral part in funding the refurbished waiting room area.
"Gold Coast Hospital Foundation want to recognise the generous donations from local individuals and businesses for making this much-needed refurbishment project possible," Mr Cox said.
"By funding hospital improvement projects such as the Children's Outpatients Department waiting room, the Foundation is ensuring patients and their families experience the best possible health care locally."
Gold Coast Hospital Foundation is a community-minded not-for-profit organisation and the official charity partner of Gold Coast Health.
Gold Coast Hospital Foundation relies on community and corporate donations to raise much-needed funds to help medical professionals make a difference in the lives of thousands of sick and injured children and adults each year, delivering a range of vital programs, medical equipment and research funding at Gold Coast University Hospital, Robina Hospital and across the local health service.
Anyone who would like to support the Foundation's lifesaving work can donate online or phone 5594 6986.