Mar, 2022
Music therapy strikes a chord with special care newborns
Music therapy is supporting families of seriously ill and premature newborns, helping parents bond with their babies receiving special care in Gold Coast University Hospital.
Gold Coast Hospital Foundation recently provided more than $70,000 in funding for the newly developed music therapy service to improve outcomes for critically sick newborns in hospital.
Babies admitted to the Newborn Care Unit often endure lengthy hospital stays due to prematurity, low birthweights, and life-threatening medical complications.
Lara weighed 1530 grams when she was born at 29 weeks and two days on 27 February. She spent 10 days in intensive care before being moved to the Special Care Nursery where she turned four weeks old this week.
Lara has gone from strength-to-strength, recently weighing 2150 grams. Mum Kelly says Lara's positive response is quite evident during the music therapy interventions.
"Lara seems really soothed and we don't hear the alarms going off, so it obviously helps her regulate her heart and breathing rates," Kelly said.
"The days are long and filled with interruptions, plus alarms and buzzers go off regularly, so it's refreshing to have the therapist change the dynamic and set that soothing tone in the room.
"It's a time for us to forget everything else that's going on and just be really present with our daughter, so it helps us a family unit as well."
Gold Coast Hospital Foundation CEO Ben Cox said the Foundation was extremely proud to help fund important patient care initiatives that ultimately support a faster transition home.
"The musical tools and instruments funded by Foundation support song-based interaction. These instruments can be used by the therapist to tailor care according to each child's developmental age and their therapeutic goals," Ben said.
"We've been able to source more than 60 items for the initiative including a guitar, speakers, various sound devices, and a range of instruments like maracas, chimes and bells."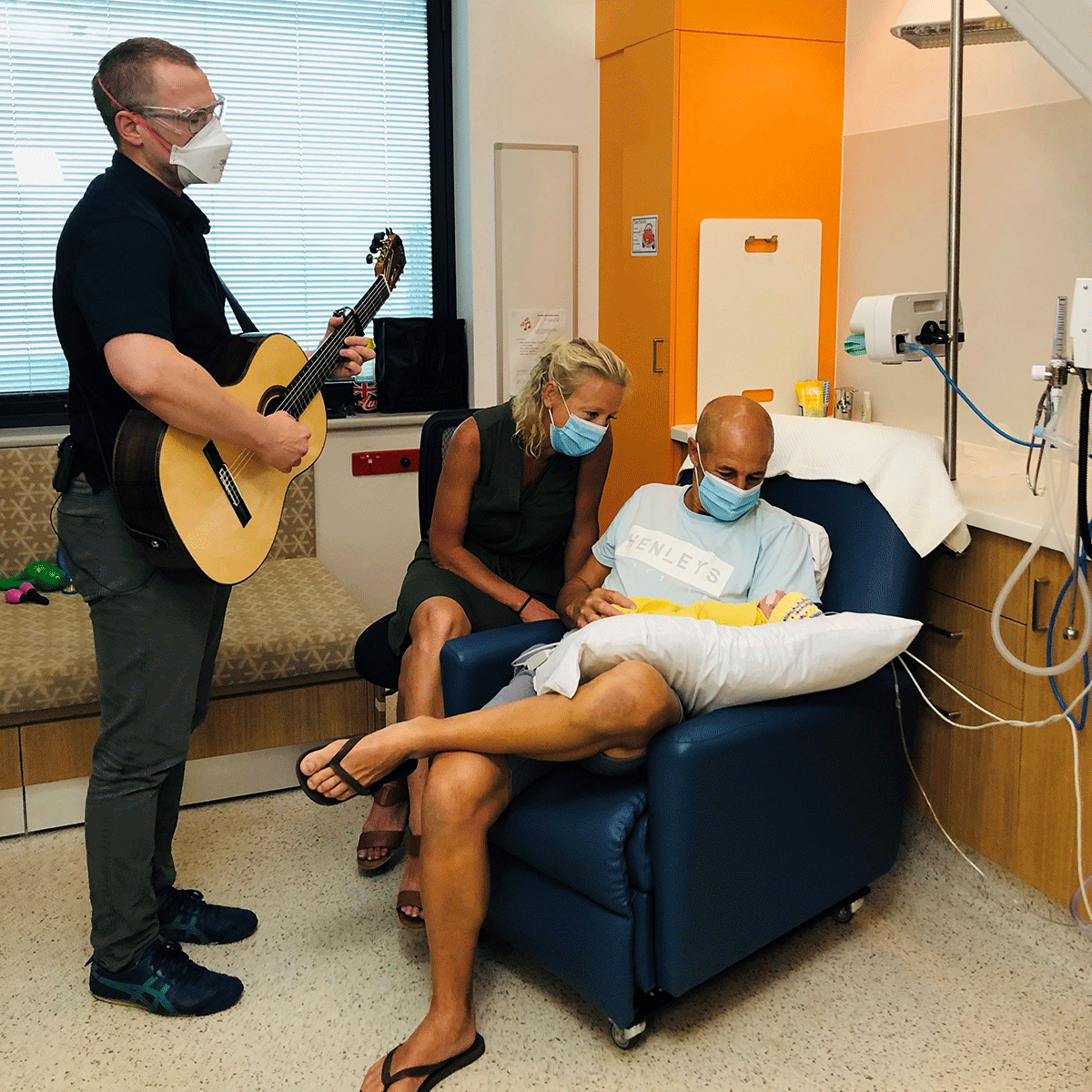 As part of the program, Registered Music Therapist Tim Minchin provides therapy to some of the smallest patients in the Special Care Nursery and Neonatal Intensive Care Unit two days per week. His therapy role falls under the scope of Gold Coast Health's Allied Health services division.
"We know from our clinical work that babies tend to relax, settle and are better at self-regulating when we introduce this stimulus to them," Tim said.
"Research also show it can minimise stress responses and help to coordinate suck-swallow-breathe patterns leading to better feeding and increased weight gain.
"A big part of that work is family centred, so we make sure the music relevant to the family as well as the child to support parents with bonding as that connection can be difficult in hospital settings."
The music therapy service has been made possible thanks to Gold Coast Hospital Foundation with the support of the 2021 Woolworths Regional Wall Token Appeal and the Children's Hospital Foundation.