Apr, 2021
First Giving Day raises record funds
Gold Coast Hospital Foundation has held its biggest fundraising appeal on record – raising an incredible $151,698 in just 12 hours to support the sickest and most vulnerable in the community.
The first ever Gold Coast Hospital Foundation Giving Day saw the local community rally together for the marathon fundraiser on Wednesday April 21 at the front of Gold Coast University Hospital.
Dedicated volunteers, generous corporate partners, busy hospital staff and Gold Coast Titans players gave up their time to jump on the phones and appeal to the community to donate generously on Giving Day. Many Gold Coast Health teams also got involved by hosting a morning tea and other fun activities to bring in extra donations.
Gold Coast Hospital Foundation Fundraising Manager Vicki James said the Foundation set an ambitious goal to raise $100,000 in 12 hours for cutting-edge medical equipment and urged the community to dig deep for a good cause.
"We are overwhelmed by the spirit and generosity of every Giving Day supporter, our wonderful volunteers and the enormity of a very special gift donated by friends in memory of a loyal supporter," Vicki said.
"We're proud to work alongside the incredibly passionate and dedicated staff of Gold Coast Health to enhance the care of patients.
"Our first ever Giving Day was an amazing opportunity for hospital staff and visitors to be part of the fundraising fun and energetic atmosphere, watch the live donation tally on the hospital's big screens in the main foyer, and see first-hand what can be achieved together."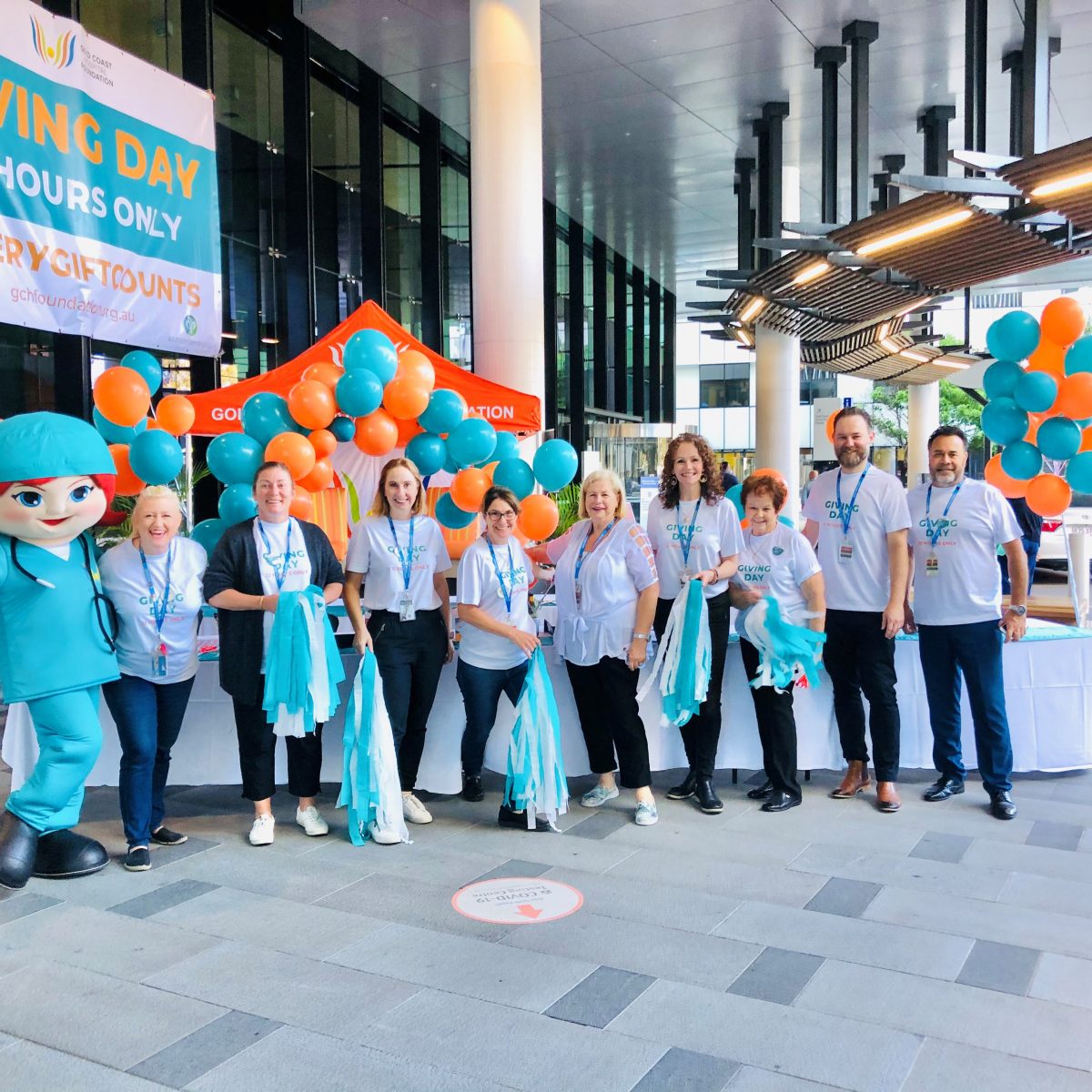 The Gold Coast Hospital Foundation Giving Day allowed supporters to double their impact, with all donations matched dollar-for-dollar by generous businesses and individuals.
"A heartfelt thank you to our matched giving partners including Neumann Family, Zener, Bendigo Bank Biggera Waters and Helensvale, Coffee Bug Express, Mediscrubs Professional Medical Uniforms, White Lady Funerals, Rotary Broadwater Chapel, Cancer Support Sisters, Coca-Cola Amatil, Gecko Vending, Amtan Medical Centres and Friend of the Foundation Maureen Stevenson."
The 'face' of the Foundation Giving Day was young patient Thomas, who was born three months early suffering a bilateral brain bleed and later diagnosed with cerebral palsy at five months old. The cheeky and determined six-year-old learnt to stand and walk by himself thanks to specialist equipment that was funded and purchased by Gold Coast Hospital Foundation. Thomas and his mum Kate dropped by the Foundation Giving Day to lend their support and be part of the fundraising excitement.
The record funds raised on Giving Day means Gold Coast Hospital Foundation can purchase vital medical equipment that would not otherwise be available for the local hospital and health service to better support clinicians in providing world-class care for patients like Thomas and their families.
Funds will go towards equipment like the Giraffe Omnibed Care Station that cares for critically unwell premature babies in the Neonatal Intensive Care Unit, and chemotherapy chairs that drastically improve the comfort of cancer patients enduring chemotherapy, blood transfusions and infusions in the Oncology Day Unit.
"A special thank you to our volunteers, hospital staff, corporate partners, community groups, patient families and everyone who contributed on our first Giving Day," Vicki said.
"We want everyone to know that every gift counts and will help support the important work being done by our wonderful hospital staff to care for the sickest and most vulnerable in our community."
View the final fundraising tally and the matched givers online.